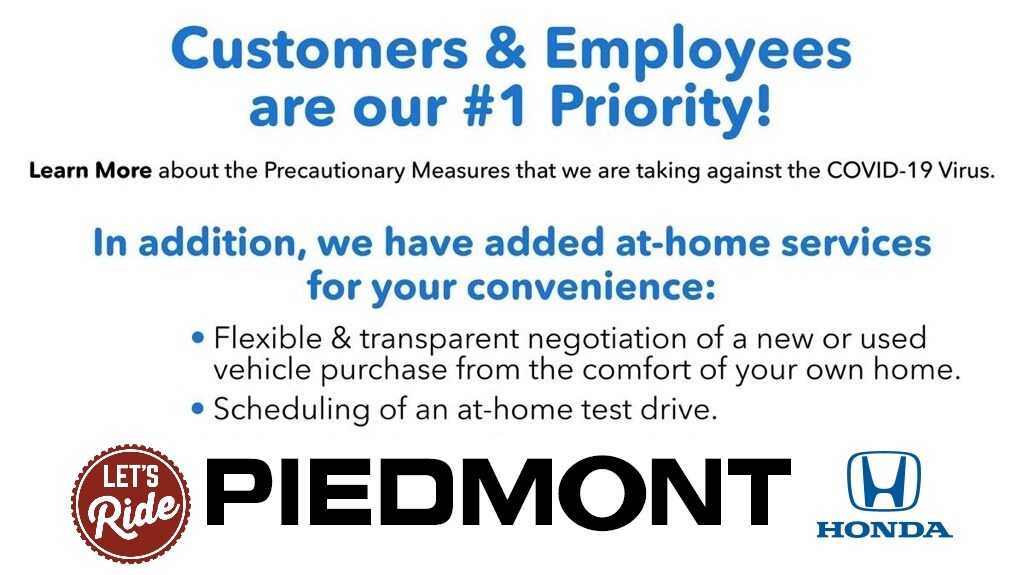 Piedmont Honda COVID-19 Action Plan For Our Customers & Staff 
In response to the recent developments concerning Coronavirus COVID-19, and the concern for both, our employees and customers, we have created a plan to keep our dealerships as safe as possible.  We are prepared to protect you as best we can and have implemented what we believe is an effective action plan in response. 
 Disinfecting and Cleaning
In an abundance of caution, Piedmont Honda will disinfect every area of our dealership throughout the day and again overnight. We have hired a professional cleaning company to disinfect the dealership nightly.  During operating hours, we have staffed employees cleaning and disinfecting all hard surfaces at customer touch points. 
At Home Test Drives
Our Sales Staff is prepared and more than happy to come to you for your next test drive. With schools and business closing in the area we know that it may be hard for those with children or older populations to travel. LET US COME TO YOU!! 
90 Day To First Payment
We are partnering with Honda Finance to offer 90 Days to first Payment* on all New Honda Purchases (45 Days on Used Cars). During this time, we realize that a car payment is the last thing people want to worry about. We finding that with these lower rates that customers are actually lowering their monthly payment by upgrading to a New Honda and with 90 Days until first payment, saving money in the long term.  
 * 90 days to first payment is with approved credit through American Honda Finance. See dealer for details
Hours
Monday

8:30am - 8:00pm

Tuesday

8:30am - 8:00pm

Wednesday

8:30am - 8:00pm

Thursday

8:30am - 8:00pm

Friday

8:30am - 8:00pm

Saturday

9:00am - 7:00pm

Sunday

Open on last Sunday of each month 1pm-5pm