Poor Credit? Bad Credit? No Credit? No Problem! Credit Solutions Found Right Here at Piedmont Honda!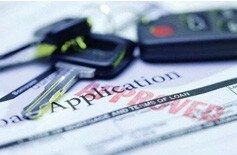 If you have poor credit, bad credit, or no credit at all, you don't have to let that hold you back from living the life and driving the Honda car, crossover, SUV, or truck you want! Here at Piedmont Honda, we understand that life often throws curveballs, we're all human, and everyone makes mistakes. That doesn't mean you don't deserve the ability to drive yourself to work, to pick your kids up from school, and to get around town in a new 2022-2023 or pre-owned Honda model. You may have poor credit or no credit at all, but don't count yourself out just yet! Our finance department is vastly knowledgeable and we're experts at what we do-we have experience working with folks of all types of credit, so your credit problems aren't going to shock or scare us away! Don't let your past hold you back from an amazing future-finance your next Honda with us and start rebuilding your credit and moving forward!
You've Got Questions? We've Got Answers!
Why Offer Bad-Credit Auto Loans?
We don't think that the number on someone's credit score gives us the entire picture of a person. We all make mistakes sometimes, life tosses us challenges, and we're willing to look past lackluster credit scores to see the person behind!
Do You Offer Loans for New as Well as Used Vehicles?
Indeed we do! Our finance department has worked with credit types and loan types of all kinds. We can help you finance whatever type of vehicle works best for your situation!
Will This Hurt My Credit?
The answer to this depends on you, but as a general rule, it probably won't! Making your payments on time can actually help to improve your credit! A win-win!
Okay, I'm Ready to Buy…What Comes Next?
After you land on that perfect Honda CR-V or Honda Civic, you can take a moment to apply for credit online.