2024 Honda Prologue Electric SUV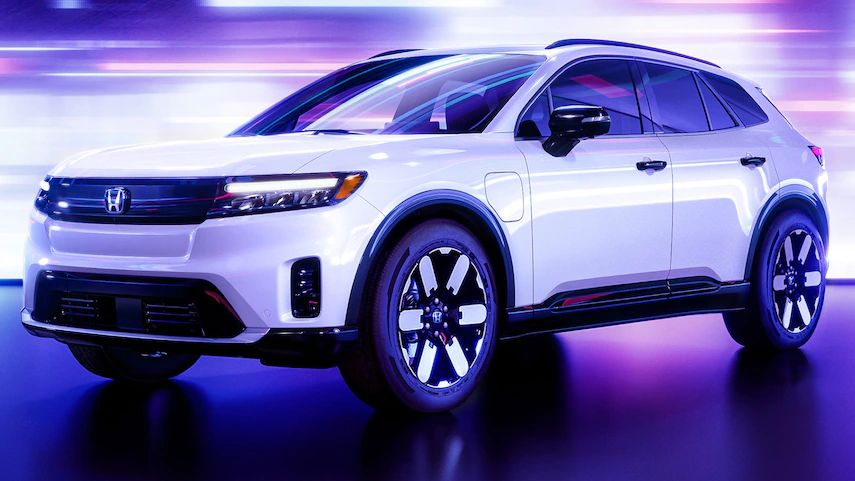 The Future is Here: the 2024 Honda Prologue Electric SUV
Say hello to the all-new 2024 Honda Prologue, a fully electric mid-size SUV that takes style and technology to the next level. Dressed in "Neo-Rugged" exterior styling, the Prologue features a futuristic and handsome design inside and out. Expected to get up to 300 miles of driving range (subject to change) on a single charge, the Prologue will happily go the distance, wherever that may be.
Take a Seat and Experience the Future
The Honda Prologue sports an ergonomic, comfortable and futuristic interior cabin that offers a 11.3-inch touchscreen display, 11-inch digital gauge cluster and a panoramic sunroof as standard features. And with a 121.8-inch wheelbase, there's plenty of room for you, your passengers and all of your cargo.
Style From Every Angle
Featuring Honda's "Neo-Rugged" design language, the Prologue exudes future styling while still offering the muscular, off-road looks of a traditional SUV. Riding on standard 21-inch wheels and equipped with stylish headlights and taillights, the 2024 Honda Prologue is sure to attract attention wherever you go.
The All-New Honda Prologue: Coming Out Early 2024 at Piedmont Honda
Interested in the new Honda Prologue electric SUV? Stay tuned to Piedmont Honda in Anderson, SC for details as more information will be released as the Prologue gets closer to its expected release date in early 2024. Have questions? Use our quick and easy form below or give Piedmont Honda a call at (855) 944-4846 for more info.
Ask Us a Question
* Indicates a required field