2023 Honda Odyssey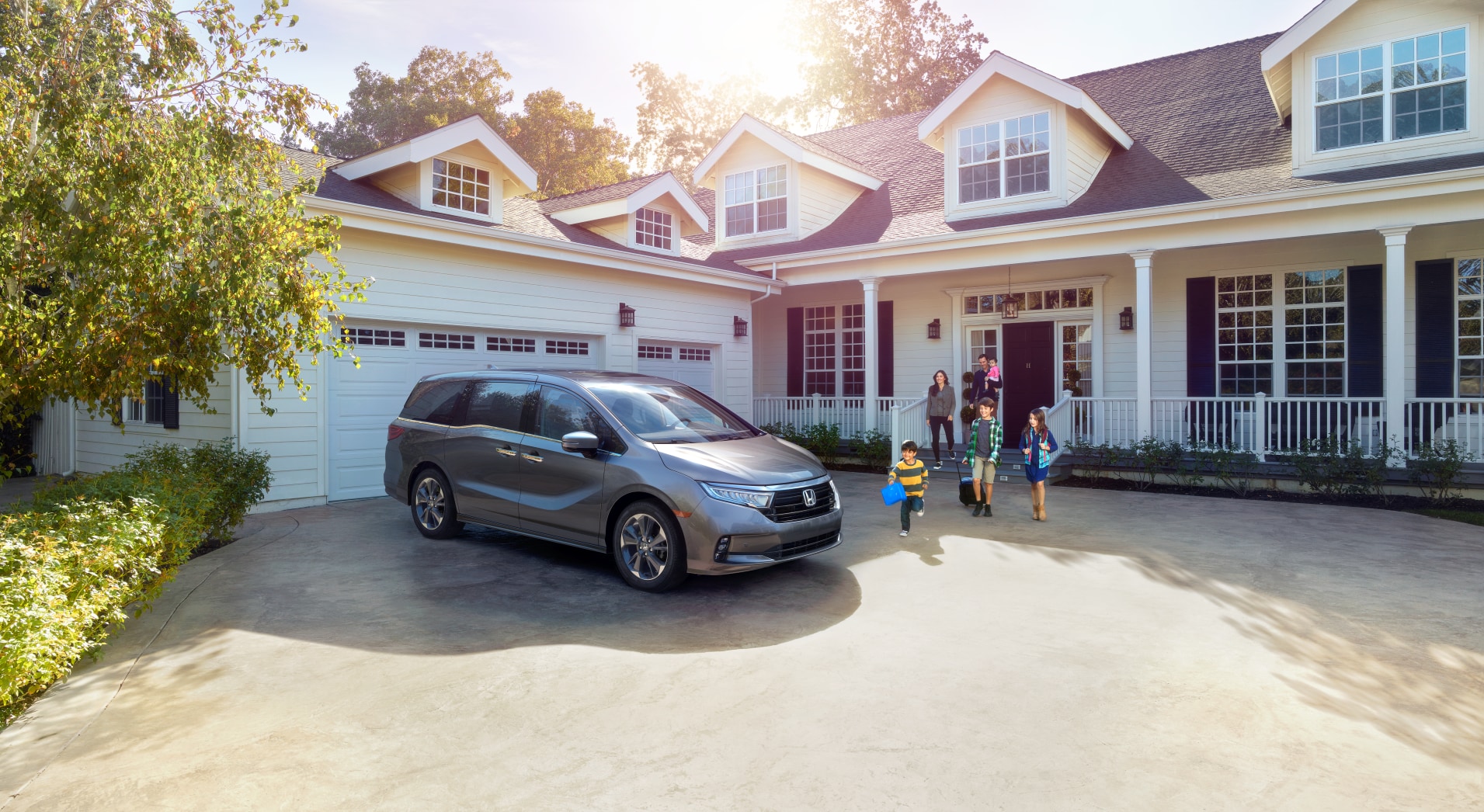 Get Ready for Family Fun in the 2023 Honda Odyssey
The all new 2023 Honda Odyssey is here and ready to take on all of life's adventures with you! This large-scale minivan is the future of all family outings. Seating a total of eight, nobody will have to sit the next car ride out. 
New advanced exterior features like LED lights that illuminate the road ahead, powerful sliding doors that open up wide, and nineteen-inch wheels that keeps it standing tall above ground put the Honda Odyssey several steps ahead. 
Impressive exterior features paired with luxury interior features like a high-tech center console, advanced seating arrangements, and the option for a huge amount of cargo space make the 2023 Odyssey the obvious choice for a family minivan! 
Stay Connected with Advanced Technology
Get connected and stay connected in the Honda Odyssey. This minivan comes fully equipped with a plethora of new high-tech technology that will keep you and your family safe, connected, and super comfortable. 
The Odyssey features satellite navigation, meaning even when you go offline in the remotest of areas, you'll still have complete access to maps to make sure you don't lose your way. 
Download CabinControl, an innovative new App that gives you complete control over the interior temperature of the car, to keep everyone feeling relaxed on the long car ride to come. Access the app before leaving your home, to heat up or cool down your car so it's at the perfect temperature and ready to go!
Room for the Whole Family
Load up the whole family in the incredibly spacious Honda Odyssey! With seating for eight while still providing plenty of leg and head room, everyone will be comfortable on the next big family road trip.  
An interior cabin upholsted with available leather-trimmed seats and multi-colored floor mats keeps everything easier to clean (or hide), making things even easier on you. Get everything in order while staying relaxed, with the Honda Odyssey's roomy interior cabin.
Load Up Large Cargo with Ease
The Honda Odyssey features a roomy cargo area that will easily fit any of your cargo and gear. You'll also have the option to remove the second and third row seats to create one large cargo area to load up even the biggest of your items! 
If you're loading up something heavy, the Honda Odyssey has got your back. The cargo area has a new hands-free access feature and with a simple kick to the bottom of the trunk, the trunk door pops open wide, allowing you to keep whatever cargo is in your hands and conveniently slide it in. 
The Comfortable and Practical 2023 Honda Odyssey
Keep your passengers relaxed and comfortable in the versatile and stylish Honda Odyssey. Stay connected even in the remotest locations with its advanced tech features and kickback and enjoy the ride with its numerous driver assist features. 
The 2023 Odyssey sets the standard for minivans. Check out the numerous features and trims we have available and explore what we currently have in stock. Call Piedmont Honda dealership at 844-433-4327 to schedule a test drive today.
2023 Honda Odyssey EX-L HFS Loyalty Lease
$419 lease per month for 36 months. $6,599 due at signing.
Offer only valid 3/01/23 through 5/01/23.
2023 Honda Odyssey EX-L Featured Special Lease
$439 lease per month for 36 months. $6,499 due at signing.
Offer only valid 3/01/23 through 5/01/23.
* Indicates a required field